2011 Year End Recap Pau, 3 of 3
December 29th, 2011
Wow, what a year. Every fall, I get nervous about the new year as it's not typically heading into our busiest time. While we aren't really seasonal, the opening is a time of adjustments and creativity. This year and last proved to be otherwise. Looking towards 2012, we are anticipating to be even busier. Lucky for me and my family, we have the BEST team. Ohana. We are ONE unit, all moving forward together. Here's the last look at our year in snapshots, hope you enjoy the show
As I mentioned in the past, I'm no celeb hound, but we get our share passing through and hanging out. This year was no exception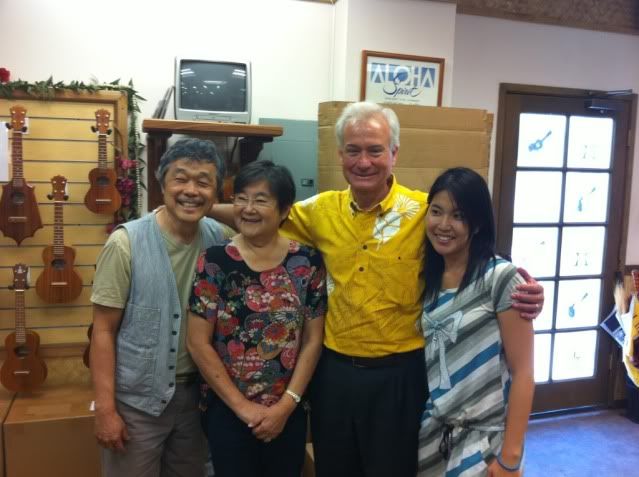 Then acting mayor, Kirk Caldwell came on down and hung out with us. Even brought us lunch. While I waited for the "pitch", there was none. I respect that a lot. Just building relationships. Even came back to visit after losing the race to Carlisle. Class act.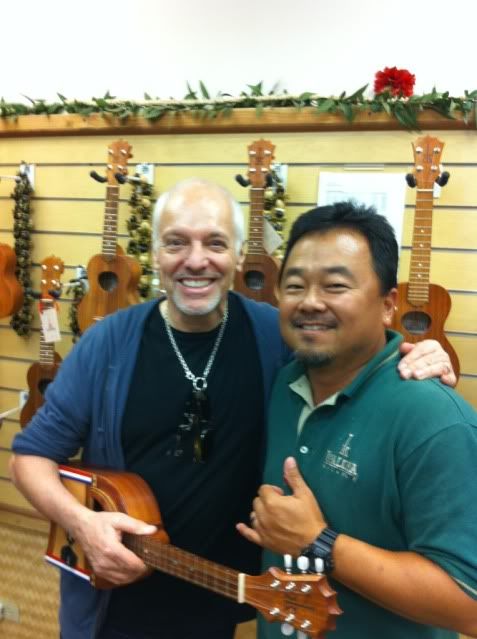 Oh mu goodness, remember Tiger Beat magazine back in the 70's? This guy was a regular on the cover and heart throb for many a girl and guitar God for many a shredder. The one, the only Peter Frampton. (now a KoAloha player)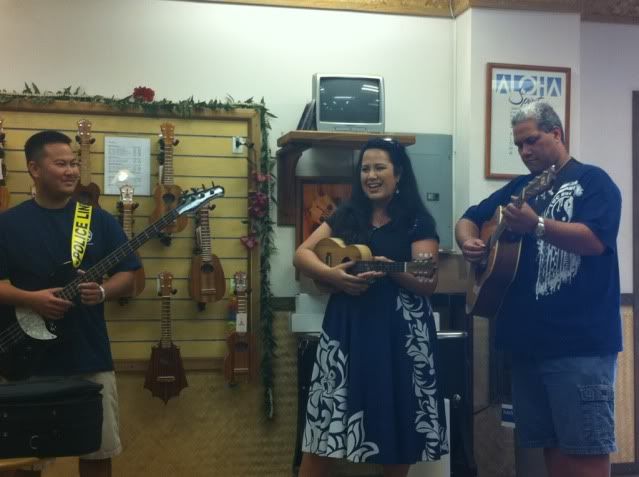 E komo mai new KoAloha artist, Natalie Ai Kamauu, pictured with guitarist/husband Iolani. Wonderful voice, beautiful people.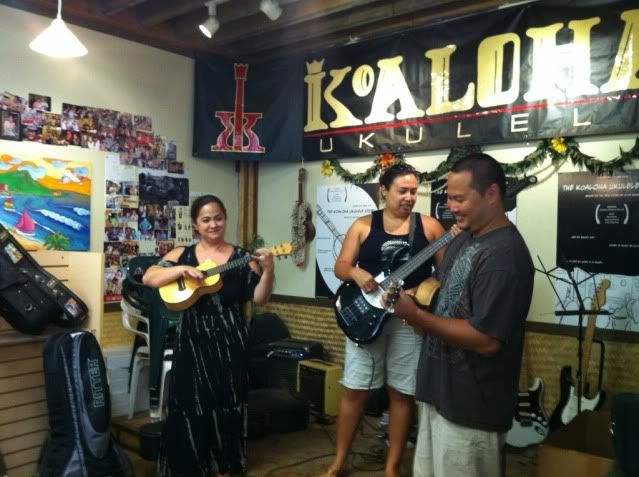 Not to be left out, more KoAloha artists, Kupauoa (Kellen & Lihau Paik) and Nat's cousin, Napua Makua. Here's a totally awesome impromptu performance that we even got mom to dance to. Good stuff. Love my job


"Wastin' awaaay in Margeritaville...." huh, Oh yeah! the ever beachboy coolest brother on Earth, the legendary Jimmy Buffet. Gave my 'ole buddy Tom Noble in Huntington Beach a call and let him talk to Jimmy. Thought it was a prank, but ended up making my dear friend's day as a faithful Parrothead.


Sony Music's Rob Wiesenthal in the house with his lovely friend and as a newly christened KoAloha ukulele fan. Come to find out, he's an ukulele buff......not a bad thing at all......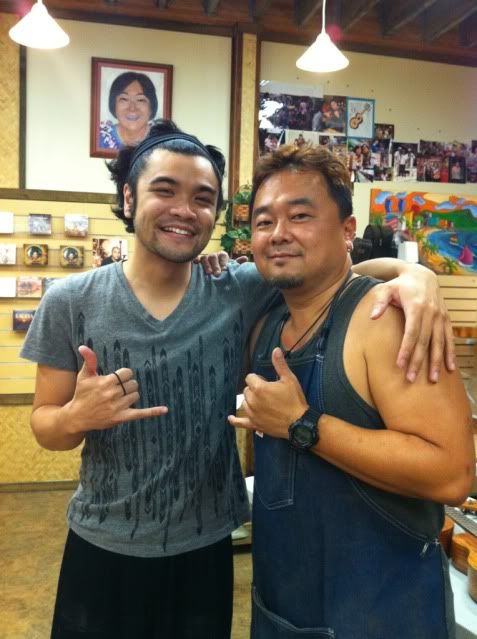 We got the man, oh the ladies go wild! The YouTube sensation, Gabe Bondoc in the house and KoAloha sponsored artist. The guy is amazing and a wonderful person to boot. Looking forward to great things together.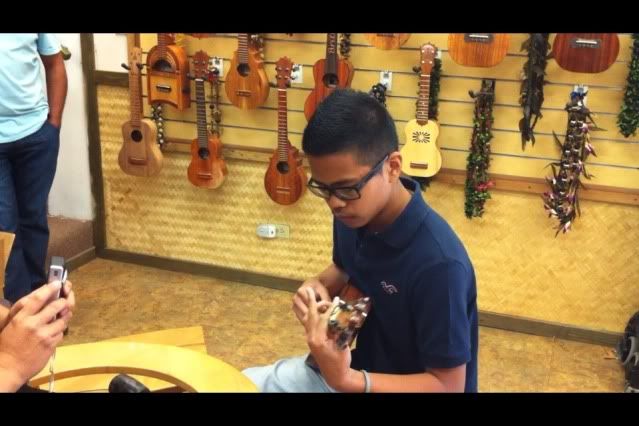 And we can't forget our superstar in the making, Ryan Imamura of Guam. Fellow Che'lu with our Brian. This young man is simply amazing and NOT a clone of anyone. Yet, he is interesting and appealing. His strong family background is a definite bonus and we'll be promotional touring with him shortly. Keep an eye open for his first cd coming soon.


Also reconnected with an old friend, Gensen Rabacal. He won the Hawaii Stars competition for people with special abilities. Despite being sight impaired, Gensen hears and plays with the heart, opening the imagination far beyond what the eyes can see. Love this guy
Of course we had events. Had one or two just about every month of this year. Hard work, but good stuff. Here's more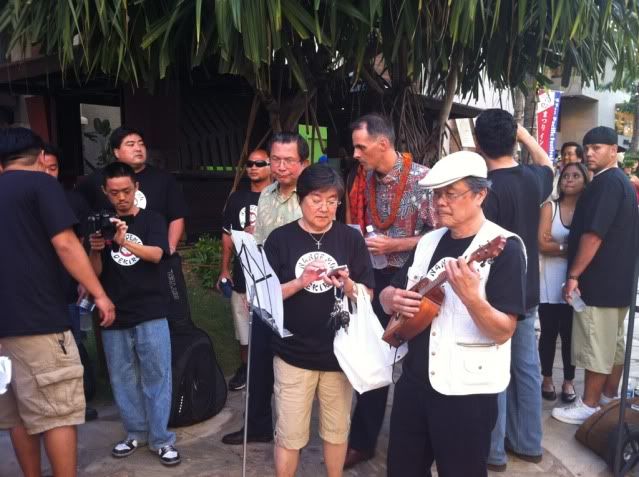 Pops and crew got to open the Pan Pacific Festivals this year, performing "Nandemo Dekiru/You Can Do It If You Try", our song for Japan. We still have a free download available on our website.


Had another great year as a board member of Hawaii Youth Symphony. Servicing all of Hawaii, the organization brings top notch music into the lives of youth. Here is Mike Onofretti and ED Selena Ching promo-ing on my radio show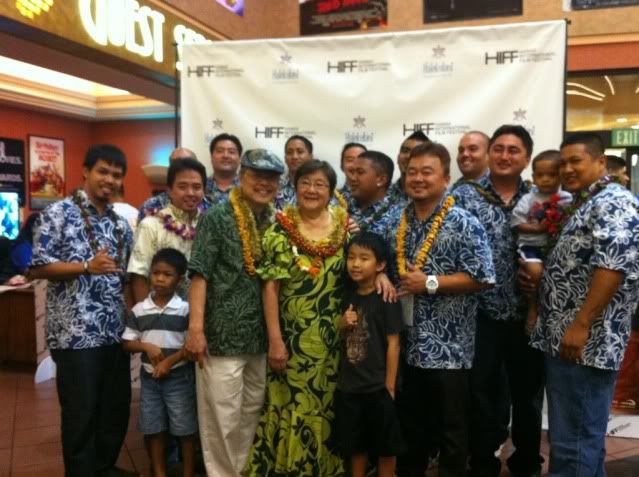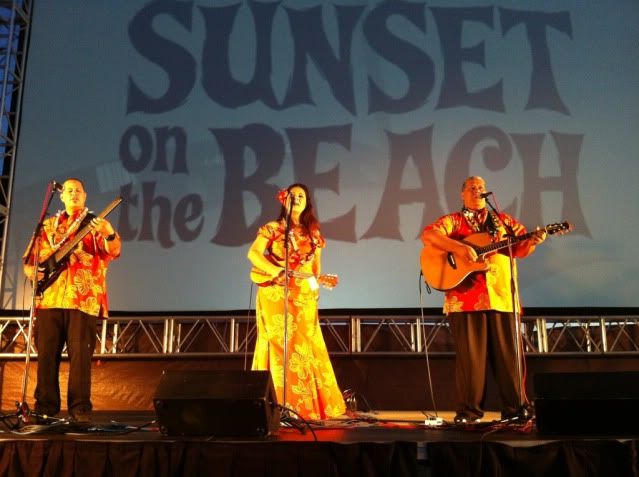 With our dear brother Gary San Angel, we got a film into HIFF. "My KoAloha Story" screened three times, Dole Theaters, Sunset on the Beach and Hilo HIFF. Awesome experience. Kudos to Anderson Le (Toys & Joys - a giving family and company) and staff for a well organized festival.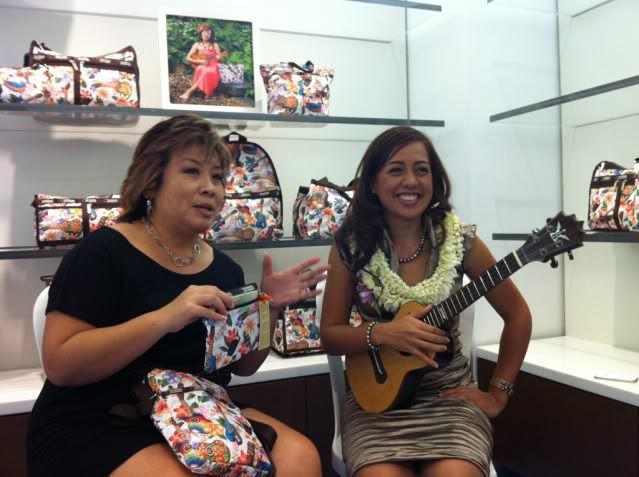 Our Ukulele Sweetheart, Raiatea Helm debuted a line of products with Le Sportsac. The Mele series is doing well and taking Hawaii to shores here and away.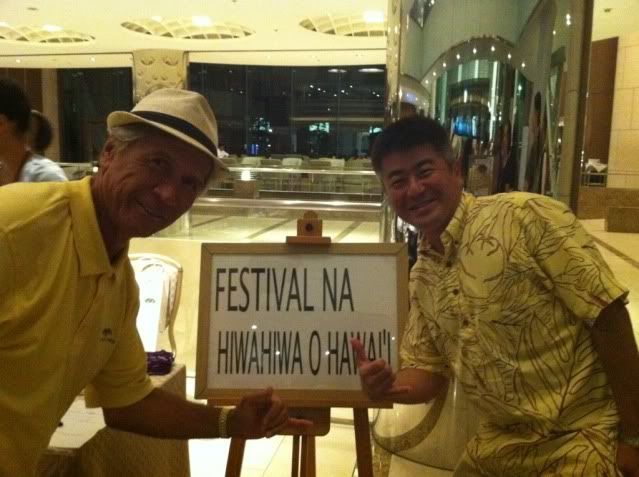 Got to experience my first Nahiwahiwa Festivals in Japan as the former Treasurer of Hawaii Academy of Recording Arts. A wonderful three day event that showcases Hula and Hawaii's top musicians.
Then on to my favorite part of what we do, our Aloha for the world around us. The life source of KoAloha.


While at Nahiwahiwa, Pali and some Hawaii musicians also got together with brother Ryoji (Aiea HS grad) of Ogo's Ono Loa Restaurant to raise some funding for the ongoing Japan relief efforts. Was a two day mini festival that attracted from all over Japan.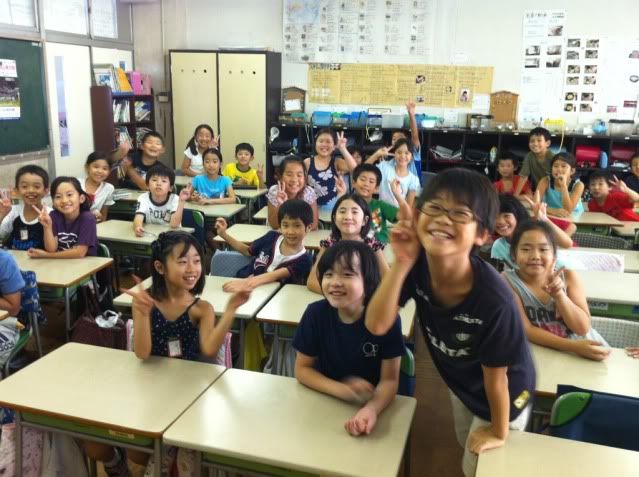 While there, I also visited an elementary school in Tokyo to share about Hawaii and play some music for them on my ukulele. Mahalo to Faith Suzuki for making this possible.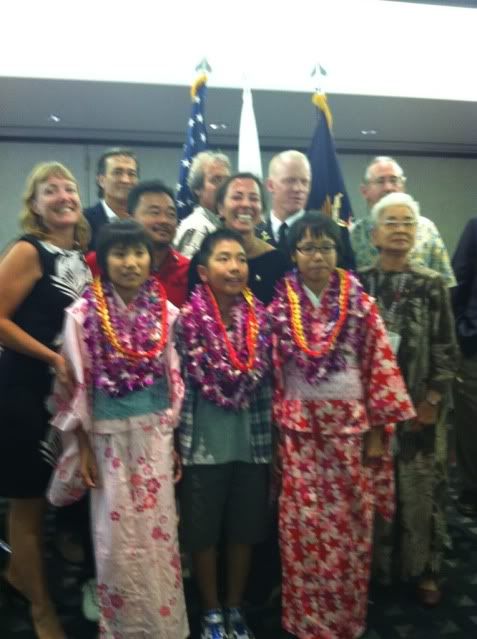 As a Peace Bridge board member and VP, we supported our Wolfhounds of Schofield Barracks as they hosted the orphans on Holy Family Home in Osaka for the record 54th year. This is the longest community relationship in the history of the US Army.


Our hearts melted again as we played host to the Rainbow Kids of Japan. Thanks to generous sponsors like Japan Airlines, Sony and many others, these children affected by the calamities in Japan had 2 weeks to get refreshed. None of them have a home anymore.....We did a bbq for them and they mysteriously received 20 ukulele from some company to remember their experience....(yes, the tears flowed.) One girl was overheard saying, "My dream is simply to touch a real ukulele...." Dream big young ones, because sometimes they more than come true. Did I mention I LOVE my job?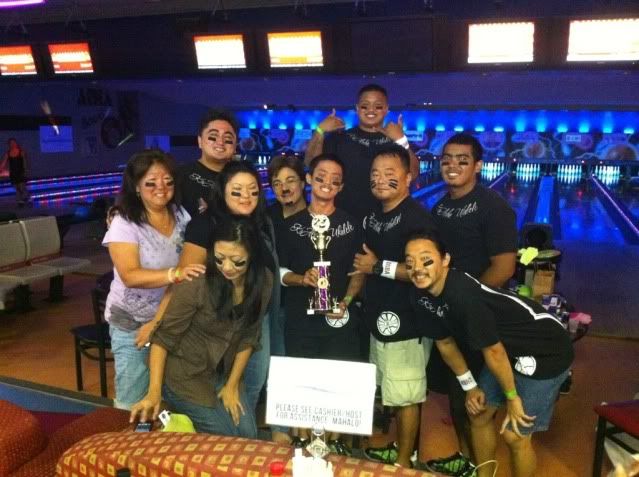 Bowled for Big Brothers Big Sisters Hawaii and took away the Team Spirit Award. Made some money for them and had a great time doing it. Had some support from our Twitter friends too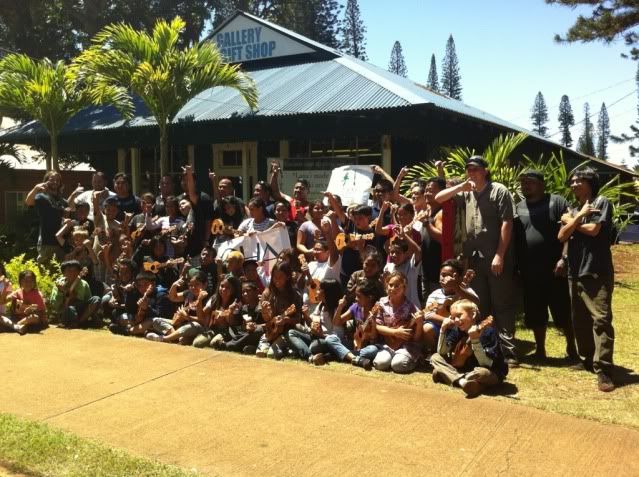 Continuing on the traditions we are establishing in Molokai and Hawaii, we built 40 ukulele with the children of Lanai. My secret ambition is to grow our company so that we can build 50% of our instruments with children all over the world. Eventually, 100%. "Lord, let me win the lottery. You know what I'll do....."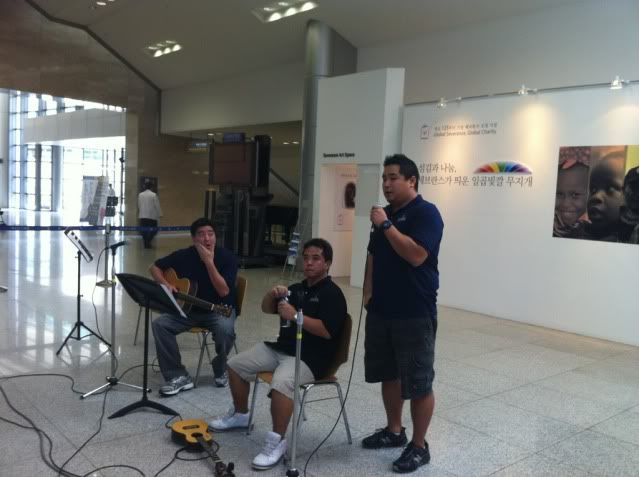 Staged a private Lu'au in Korea, but not withour visiting a local hospital to spread da Aloha.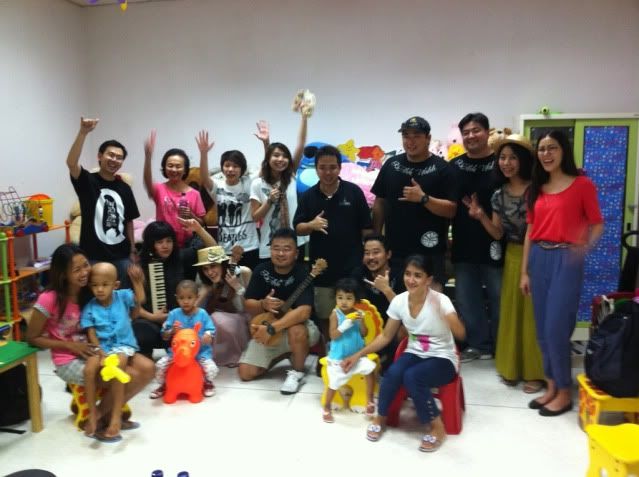 Did a Lu'au in Thailand too, but first things first. We visited a children's hospital's cancer ward. The stories we could tell from this visit. Tear jerking and inspiring at the same time. How the heart expands if you let it.
Thanks for sharing my year with me. Our "exploits" are not on display simply for entertainment value. We're a small company, but we Believe we're making a difference. All it takes is a spark and we hope that we can serve as that inspiration. If a little company like us can do it, so can you. All it takes is a willing heart and the actions to follow that call.
Stay tuned, more to come in the new year. Mahalo ke Akua for your many blessings. "We Will" Lord, we will.