Public Speaking
April 29th, 2013
Hard to believe I was once quiet. Nowadays, I talk a lot. In fact, it's my job to do so. Gone are the days when my pops chided me by saying, "You are so anti-social and always look angry. It's terrible. you need to learn how to speak!" Famous last words, ha ha. Boy does he regret that now. Can't get me to be quiet now....
One of the more rewarding things about what I do now is to be invited as a speaker for various engagements. I've presented to career days at primary schools, a high school and most recently, a career development assembly and college.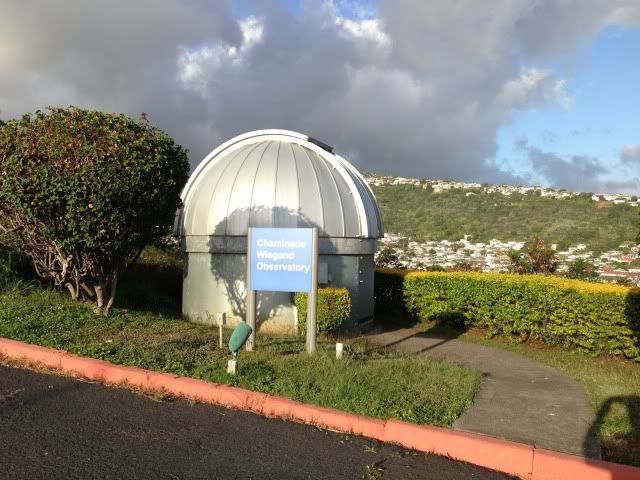 With a view like this, it's hard to think that this is some kind of work or something like that. Lucky we live Hawaii I tell you. This is the view from St Louis Heights, Chaminade campus. Didn't realize that they had an observatory.

The view includes a panoramic view of Palolo Valley. It's amazing to see it all from this vantage point.

You can also see Diamond Head in the distance. I was amazed at the clear view as we been having a lot of vog lately. I'm super happy that I was able to take these shots.

Then I went to work. These are the young men and women that are part of the Hogan Entrepreneur Program at Chaminade.
The Hogan program is designed to create future leaders, regardless of the work sector that you are in. They bring in presenters from all walks of life and professions to share of their experiences with the group. Supporters include many of the high society in Honolulu and I was amazed to learn of the calibre of speakers that have passed through their doors.
From my notes, I think one of the best things I share with them is to dream. Not only to dream, but to dream big. The biggest obstacle in place is fear of failure as we think about all the people watching us, measuring each step we take. "Embrace failure" I told them. "It's your friend". There's a reason I shared this:
Fear comes in as most don't dare to dream. We don't want to look like fools if we can't achieve our goals. What is often underestimated is the positive impact of failure. It's the best teacher, because it hurts. Hurts in many ways. Failure dictates change. It screams for course corrections, self examination and calls for improvement on what we are doing and how we behave. Embrace failure my friends as long as you don't linger there. Success may be just a corner away.