Nine and Four Hundred
May 8th, 2013
Want to hear one of our secrets? It's actually getting out more, so it's more of a thing we don't talk about than a bonafide secret....."Nine and Four Hundred"
Nine years ago, we started off on what we projected to be a six year commitment. It all started with a call from Josh Adachi from the Molokai Youth Center. They were looking for a company to provide instruction on how to make ukuleles. We were quick to grab on to this and one thing lead to another and it grew to the point where we decided to:
1. Provide our own ukuleles as kits
2. Pay our own way there
3. Volunteer our time
4. Take the entire company
We missed last year due to a hectic travel schedule as well as once in 2008, but we haven't missed a single child since the inception in 2004. We doubled up on the years we missed. 2013 marks our 9th year and here's how it went: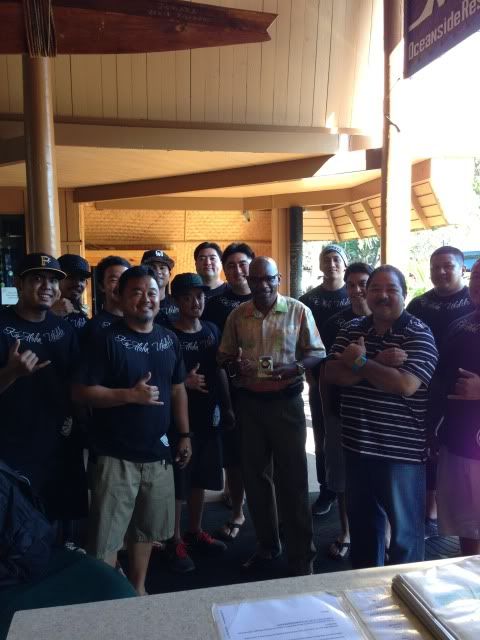 This year was no different from others, the entire team made it out to the Friendly Isle. This is probably the most anticipated one of all our travels each year.


Mahalo nui loa to Michael Drew and the ohana of Hotel Molokai as they have been hosting our groups each year since 2006. It helps us a lot.


The after workshops views are pretty good too. We made our daily rounds to the pool and washed off all the dust from the workshops. Not to mention, Molokai is HOT! So the pool was a literal oasis.


But of course the reasons why we were there is right here in the picture, all 70 reasons.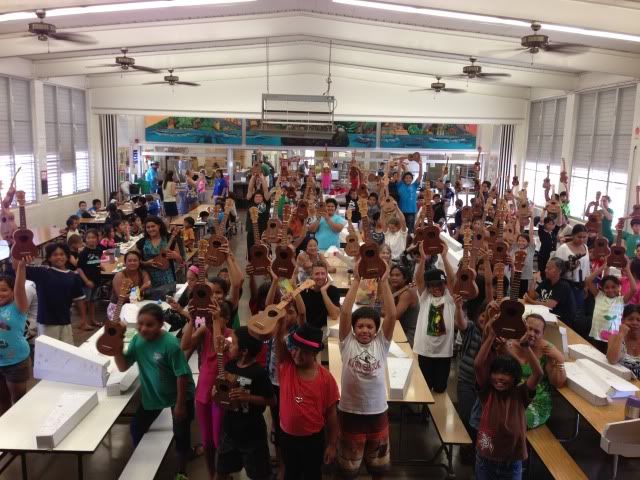 A little bit of sanding, gluing, assembling and oiling - then voila! We packed the entire cafeteria for this build. It was the first time we did this many kits. The previous record was about 43 of them. As for the results.....


Well I'd say this guy looks pretty excited about making his own KoAloha Ukulele, would you agree?


Most of our morning were spent at Kanemitsu Bakery. I had to depart from my low carb menu and went with this every morning, loco moco w fried rice. Don't be sad for me, it was ono!


We also try to make a short 10 minute trek up the hill to Kualapuu, where Kualapuu Cookhouse is. These folks are amazing.


I opted for the steak. Was more like a side of beef. Was so huge that it practically covered my entire plate. So so good!


Molokai is a double edged sword. Many think we are the ones bringing something of value there. In our eyes, we are the ones that walk away with more. The place is a reminder of how Hawaii used to be. It's taking a step back in time where people helped one another without expecting anything in return. A time when no one locked their house doors.
The island is often the brunt of economic jokes which lights our fire even more. We should all be helping one another to make this short life just even a little bit better. It's fair to say that many of the families would not be able to afford the ukulele we build there, but that depends on how you measure paying. We were showered with home made goodies in baskets that overflowed. They all tasted incredible. After all, they gave what they could and money can't buy that.
So we broke our promise. We went back after we completed the first six years. At nine years, we've broken that intent three times. 400 instruments later, we don't have any issues breaking our word again next year. Mahalo ke Akua, we are the ones that are blessed.