2013 Year in Review - Fall, Jul - Sep
January 8th, 2014
There is beauty in all things. Such is the case in my accounting computer needing a year purge. I'm still making the last entries so that I can work in 2014, but not quite there yet. That leaves me time to blog. Fall is when our travel schedule was trying to rival 2012's. Not quite 23 trips, but at times, it felt like it. Imagine ETERNAL jetlag. Actually, don't. It's horrible. Here we go as I keep us on the adventures of this past year:

We start off with Paulie dancing at Duke's Waikiki at Outrigger on the beach. We were just about to take a trip and wanted to spend time off with the kids before we left. Bobby, Kahi & Richie of the multiple Na Hokuhanohano Award winning group, Maunalua, coaxed my brother up for a dance. It was a lot of fun.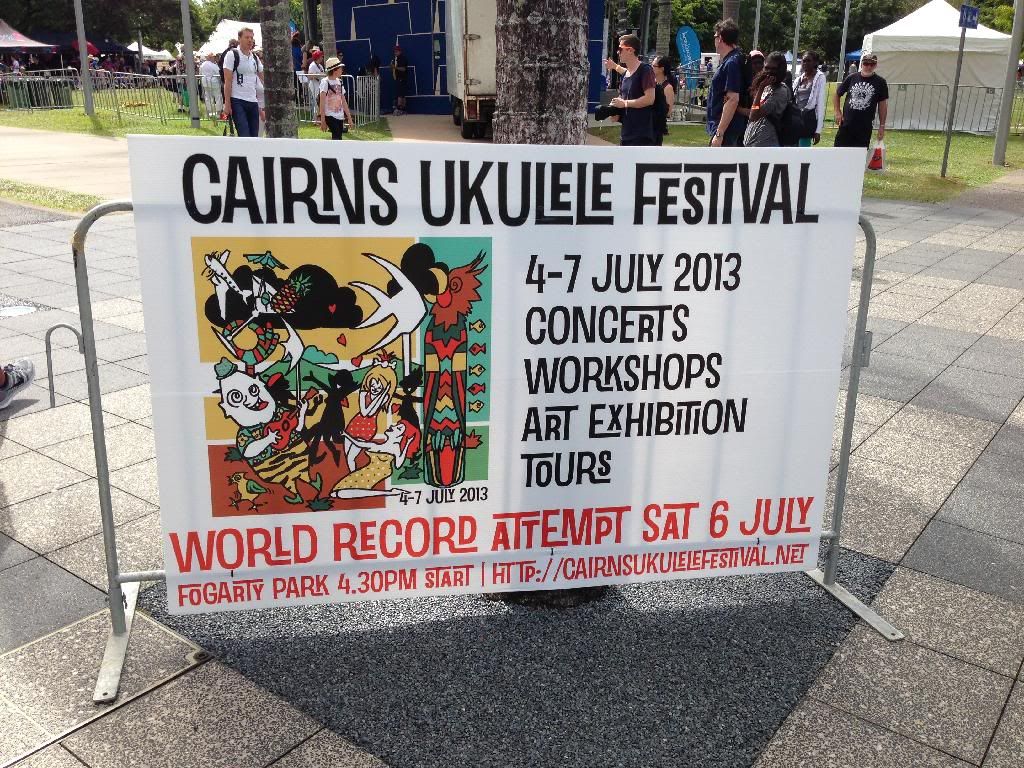 Then it was off to Cairns, Australia the very next day. Gaby and the folks from Music City Cairns put on one helluva Cairns Ukulele Festival each year. We even got to meet some Japanese National hula dancers from Oz's Gold Coast.

The stage was alit with talent as we showcased Ryan Imamura of Guam. We were also able to add Ryo Montgomery to our ohana as a supported artist.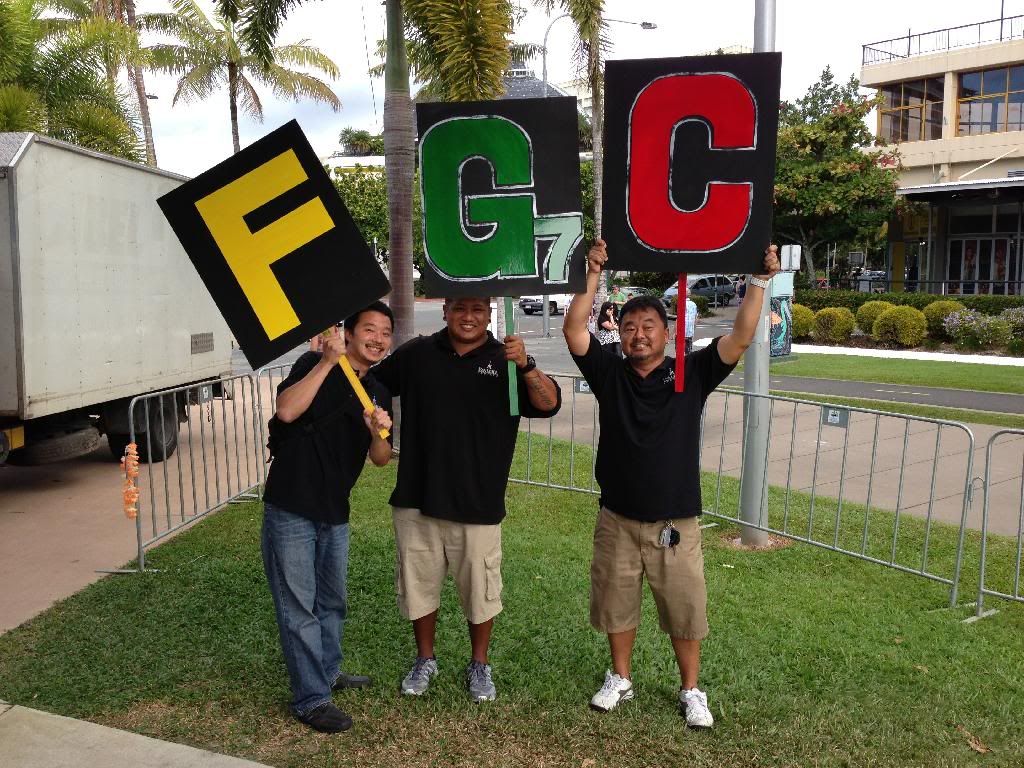 But we were NOT to be outdone! Me, Paul and Griz were the best darn "card girls" that the festival has ever seen. We proudly held up the chords to play during the world record ukulele playing event.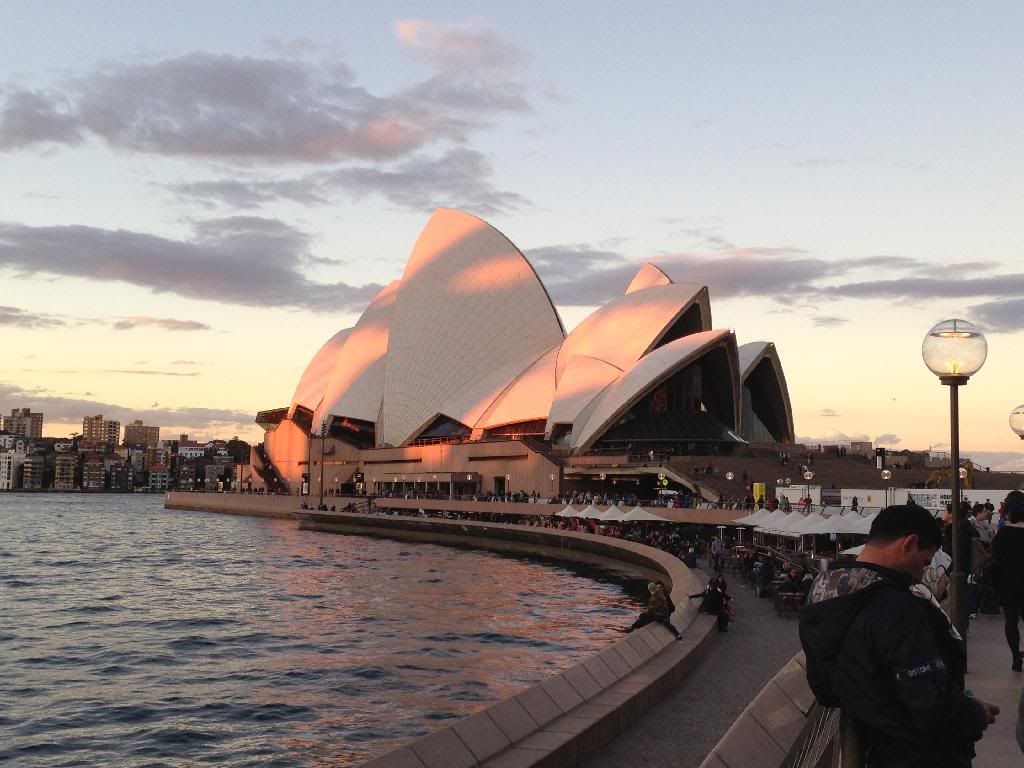 I'm not really a sightseeing buff, well may be I am....I can't express how beautiful it was to see the Sydney Opera House in real life. I've seen the pictures and I've seen "Finding Nemo", but nothing can compare to what we saw as the sun set over the horizon. It was amazing. Definitely a "must-do" when visting Oz.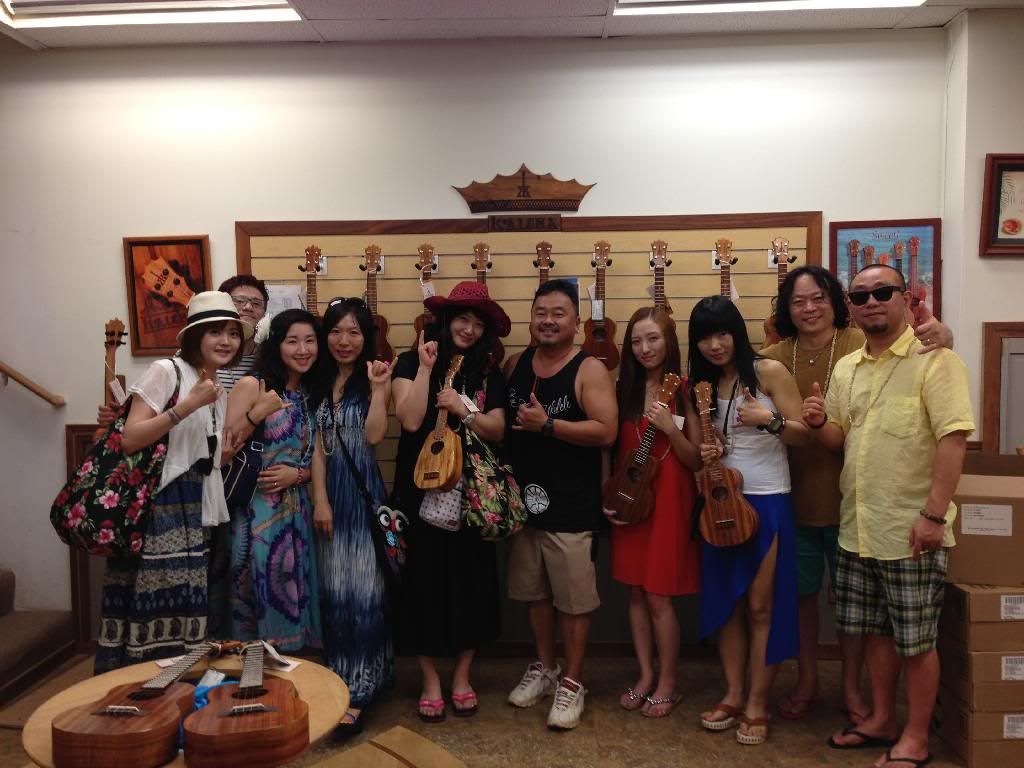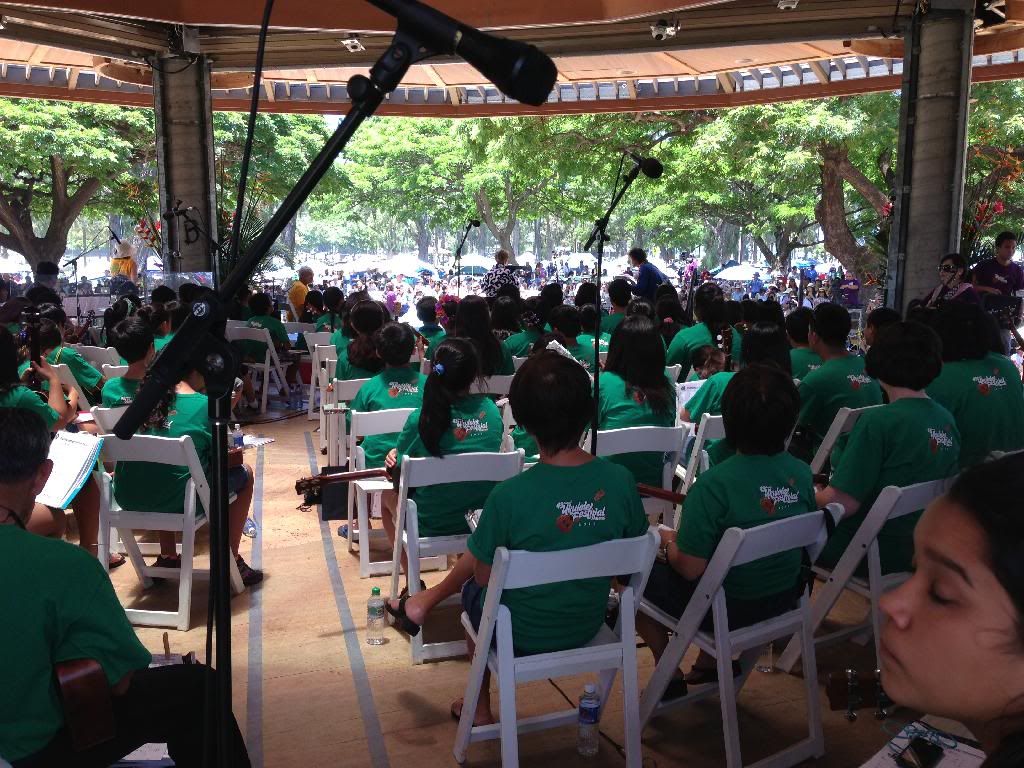 Before you know it, it was time for Ukulele Festival back home. July was craziness supreme. So much work, but so much fun too. We hosted a few groups visiting town at the time. Pictured here is the Ukulele Orchestra of Korea, led by Professor James Jeong.

This year, out theme was prize cranes. We gave away a ton of stuff and even sneaked in random ukuleles to give away throughout the day. Not only did our visitors have fun, we had a blast too.

As I said, July was crazy. Absolutely crazy. We didn't even have time to catch our breath before heading right out to Japan for the 14th annual Ukulele Picnic. I Finally got to meet the cute kid on YouTube a few years ago that sings and plays Jason Mraz's "I'm Yours" only to have my ego completely deflated. He doesn't know KoAloha, sigh......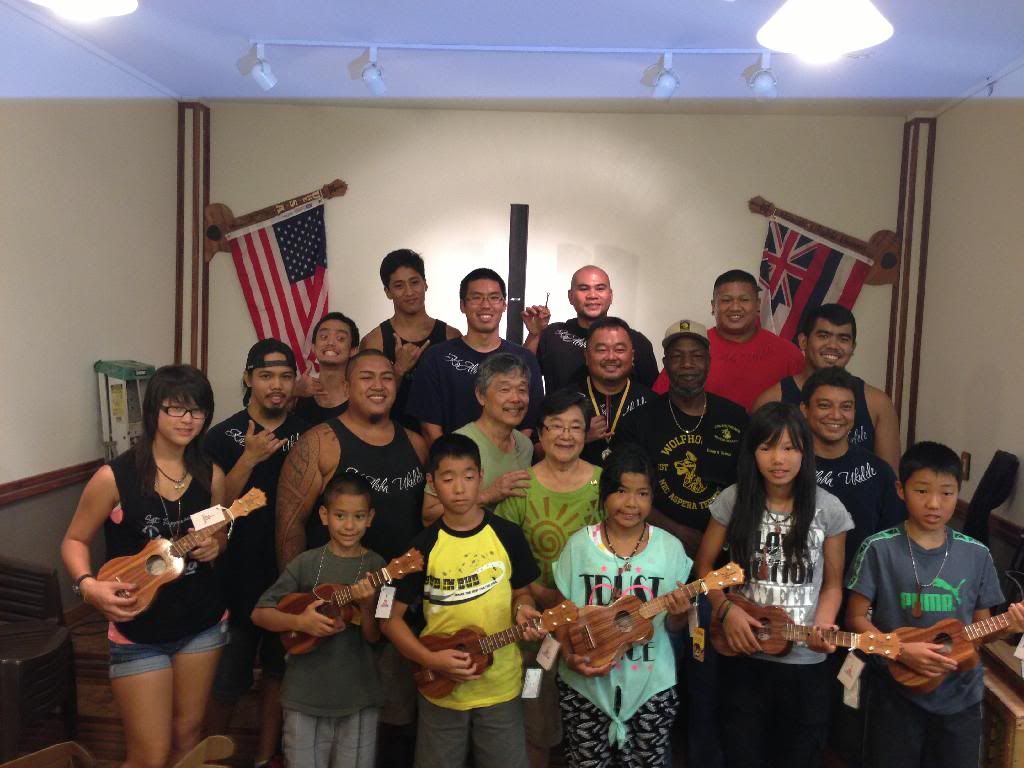 Then I rushed back home again to join the Peace Bridge, board that I serve on that supports the Schofield Barrack's Wolfhounds and the children of the Holy Family Home in Osaka. Another magical time with the children as we visited our factory and Menehune Mac. This year, we got to build ukuleles with the kids and host families. More awesome times!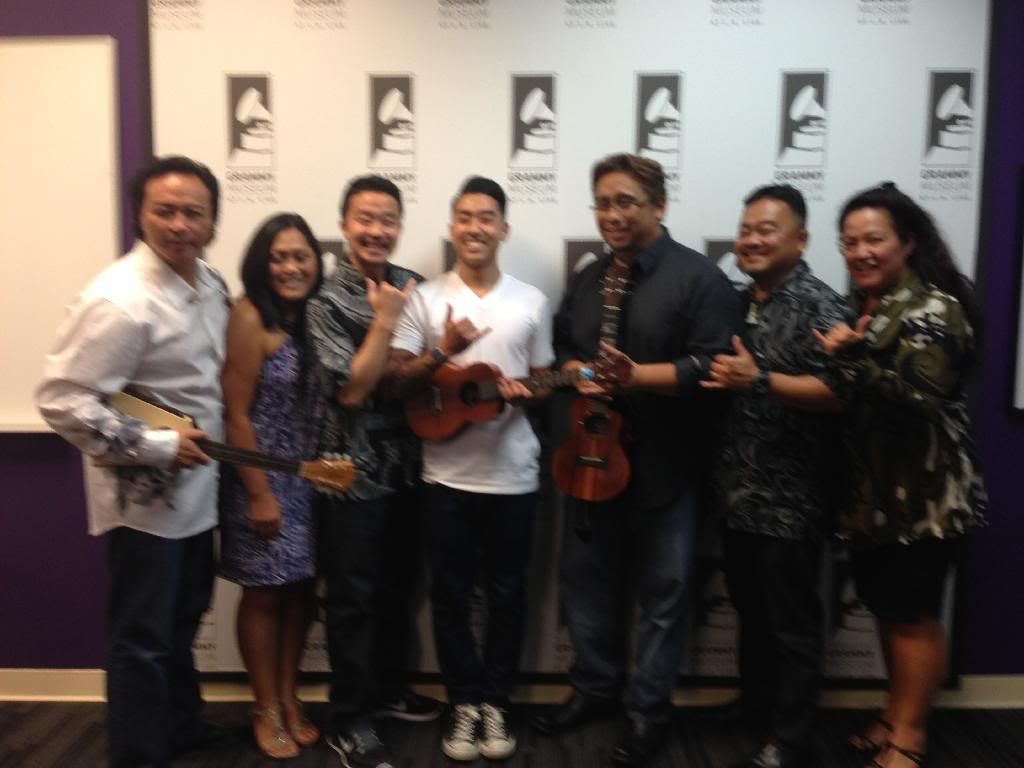 Soon after that, we packed the bags yet again and took a domestic trip for a change. This time it was LA and the Grammy Museum. Thanks to the hard work of our PR/Marketing support extraordinaire, Tracy Larrua of Poi Planet, we've been back for two consecutive years to do a show. They said they want us back again this year where we're hoping to do a Hawaiian review. This year's team was Tony Conjugacion, Tracy Larrua, Paul, Tj Mayeshiro, Pali Kaaihue and me.

Took a little breather (not much) then got on the plane to Korea for Ukulele FaFe and some independent promotions. Ryo Montgomery and Tj Mayeshiro did their best Korean King impressions while we were there. No free stuff for us, so I guess it didn't work too good.
Whew! That was about it, that is, before October came around, but that's the next blog. Stay tuned, I been keeping my promise. There's more to come, then we can head into what we're doing this year. From Kalihi, Aloha!
Posted in
Uncategorized
|
Comments Off

on 2013 Year in Review - Fall, Jul - Sep