Okinawa, Hajimette (First Time)
May 16th, 2014
I'm back again this week! Thanks for chiming in to let me know that you read my posts. I love the new spam filters that Star Advertiser uses now too. In the past, I would need to spend a whole lot of time deleting all kinds of stuff. I know where to find designer watches, Viagra and Russian girls now....urgh! Kudos to the editor for the filters.
If I'm not traveling, I'm going to try to post at least once a week. If you need more of a fix, then visit us at KoAloha too. Me and my managers are trying to post once a week there too. My next turn is the week of June 19th. Last December, we got to head out to Okinawa for the first time. Here's our adventure:
Touchdown Okinawa! One of the first places we went to visit was some kind of entertainment/restaurant destination. This was the first place that I realized Okinawa isn't as warm during the winter as I expected...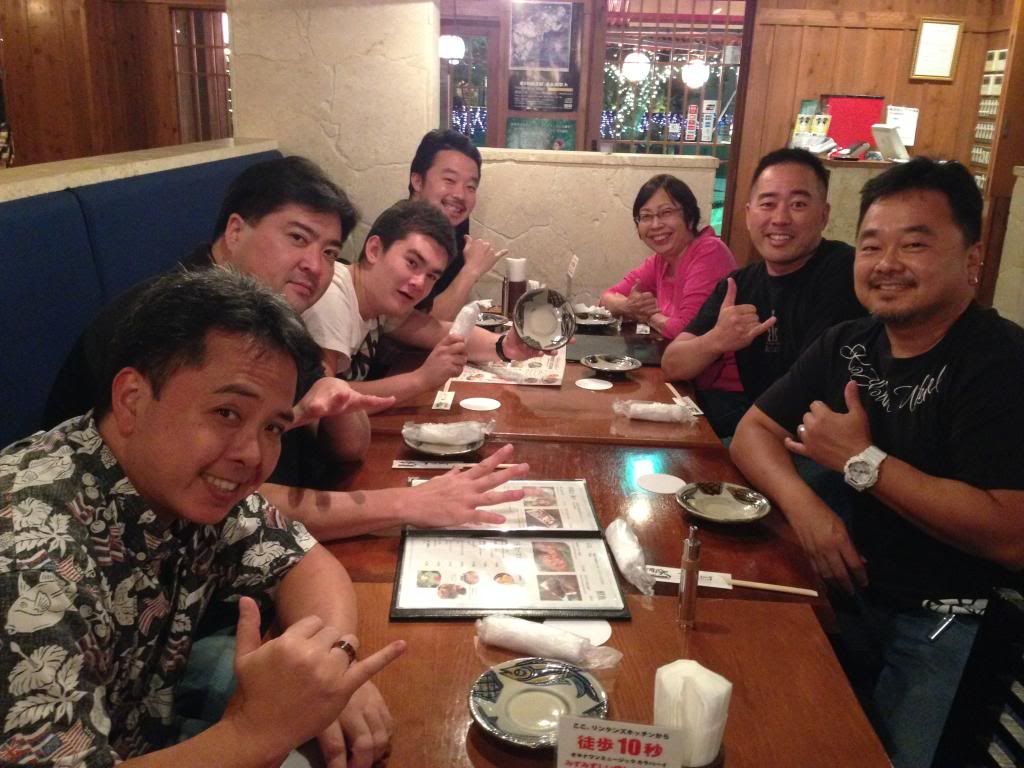 Our team was me, my brother, Keith and Leila, while our artists were Herb Ohta Jr and Ryo Montgomery. Our designated tour guide of the evening was local boy, Colonel Colin Sewake. You might recognize his mama from the UH Wahine Volleyball games. She's one of the "Aunties" that waves signs and give the players leis.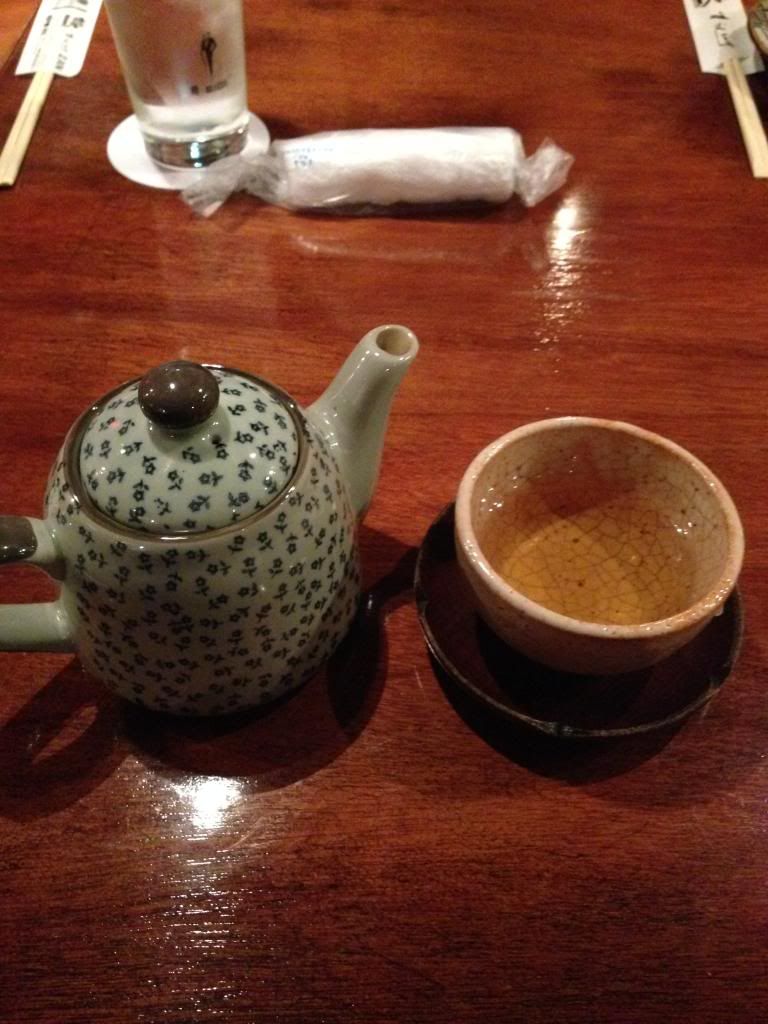 What is a visit to Okinawa without goya (bittermelon)? Well, that wouldn't be a "real" trip to Okinawa, I tell you. This was another first. First time I drank goyacha, or bittermelon tea. Was soooo delicious!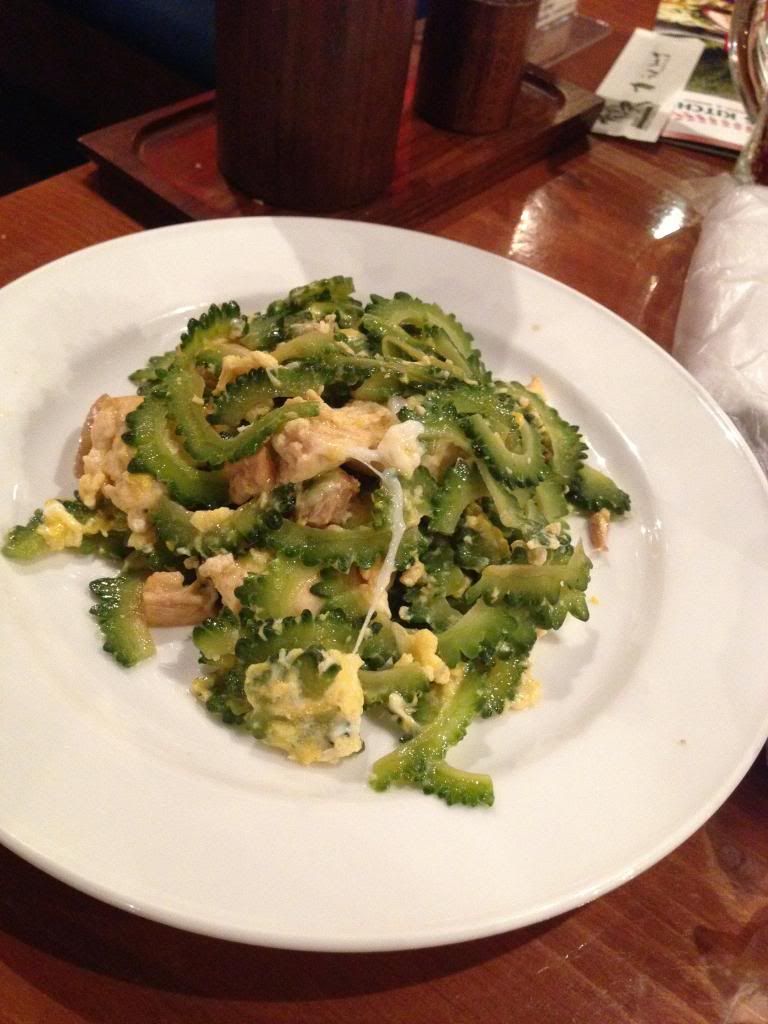 Then it was more goya in the form of champuru and of course another must eat is Okinawa's famous rafute. It's a slow simmered pork that literally falls apart when you eat it. Can't remember the name of this place, but it's the restaurant owned my famous Okinawan Pop Group, Rinken Band, lead by Rinken Teruya.
In the morning, we met up with Ryu Sato, the organizer of Ukulele Picnic there. He's a super cool guy and has a number of businesses there. He's originally from Tokyo, but has invested himself into Okinawa and their economy. The braddah also loves Hawaii, how can he go wrong yeah?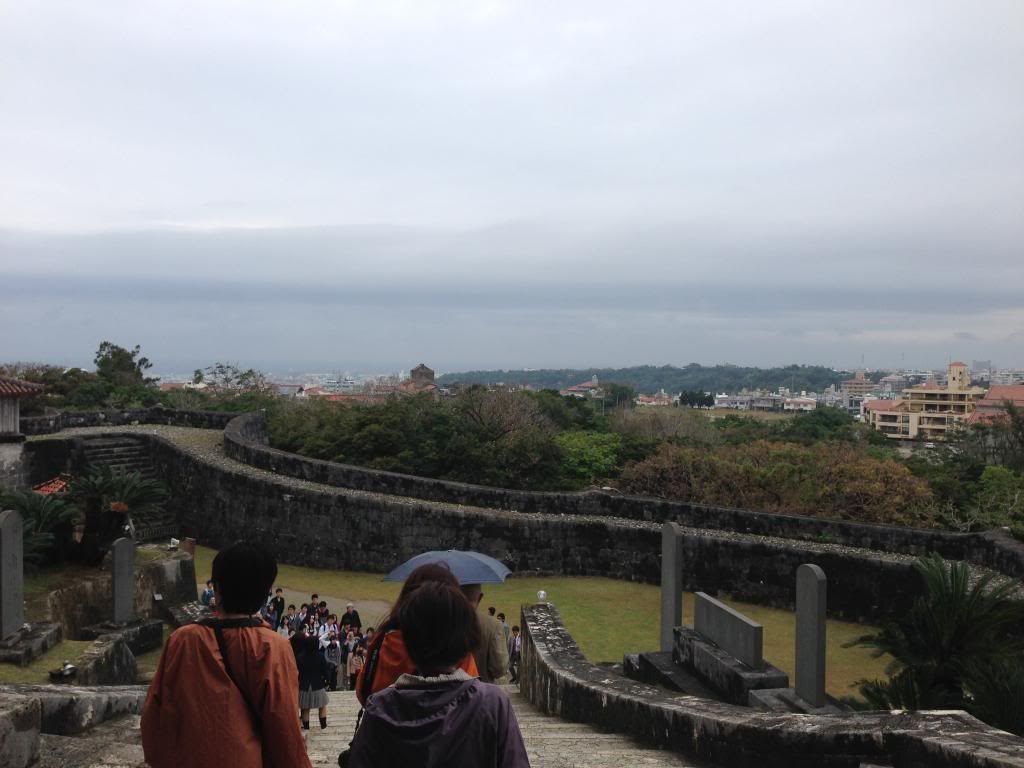 We had a little downtime before we needed to go to work, so we visited the ancient castle there. It was amazing, aside from the person in front of me, constantly passing aromatic body emissions from the lower regions in my direction. Yikes! We also headed over to Ryu's restaurant, Beach House. They serve a killer hulihuli chicken and Hawaii's own Badass Coffee brand.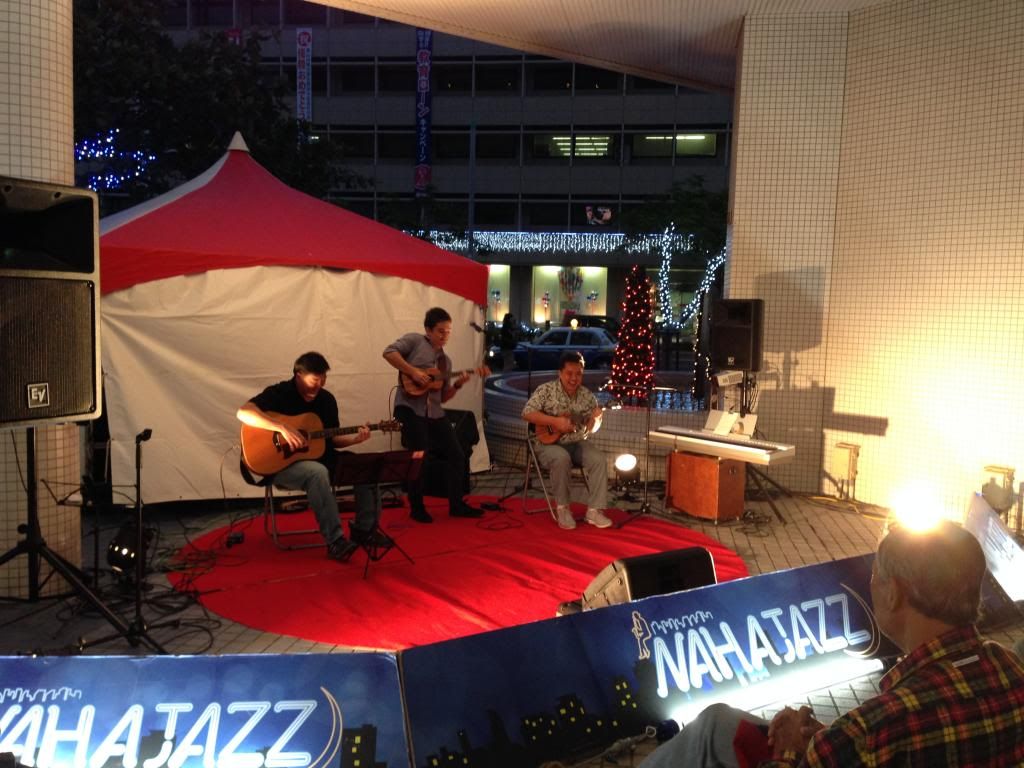 Then it was time to go to work. We do work from time to time you know? Part of our pre-event promotions was entertaining the folks over at the governmental offices and an office complex in Naha city. We were joined by Konishiki and his lovely wife.
Luckily for us, we got to eat the most delicious-ess noodles there, soki soba. While it may look simple, it is, but, super ono! This is one of the things that cannot get the real taste unless you head over there. The owner is cool and makes his dishes with a lot of love. He actually got teary eyed when we told him how much we loved his noodles. I dig that. Nothing like true passion. It's beautiful to see.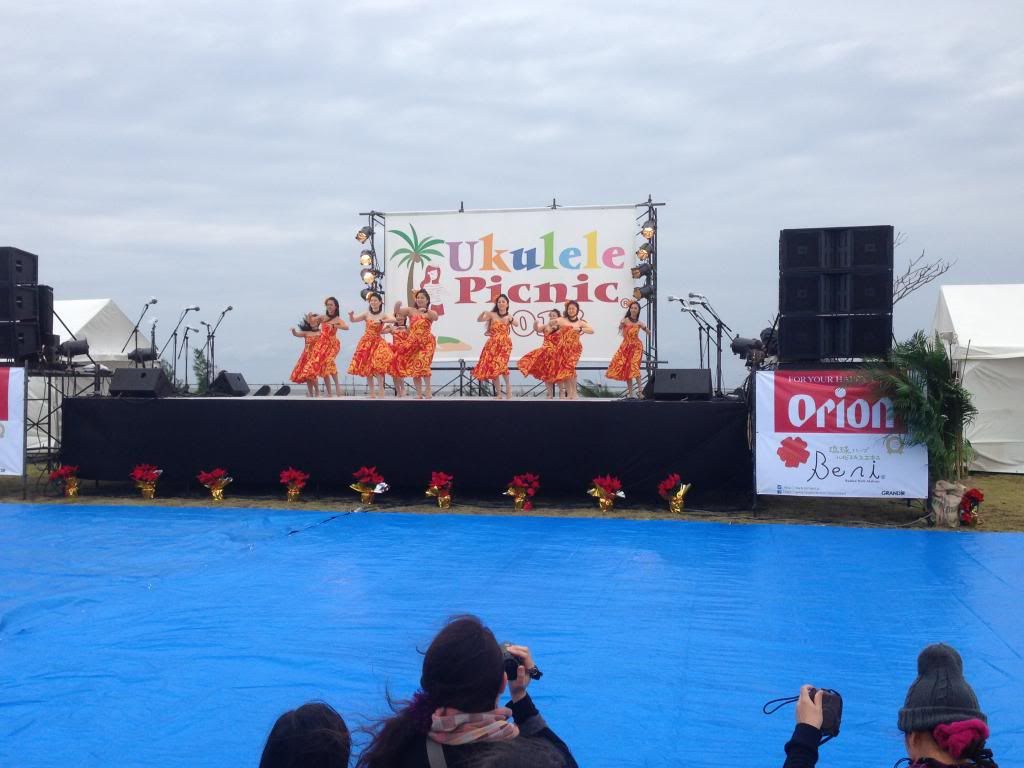 Showtime! The day arrived for why we traveled. The first Ukulele Picnic in Okinawa began. The day opened with a zillion hula girls dancing and went into many talented performers. We got to feature our young star Ryo and he rocked the mic with his amazing skills.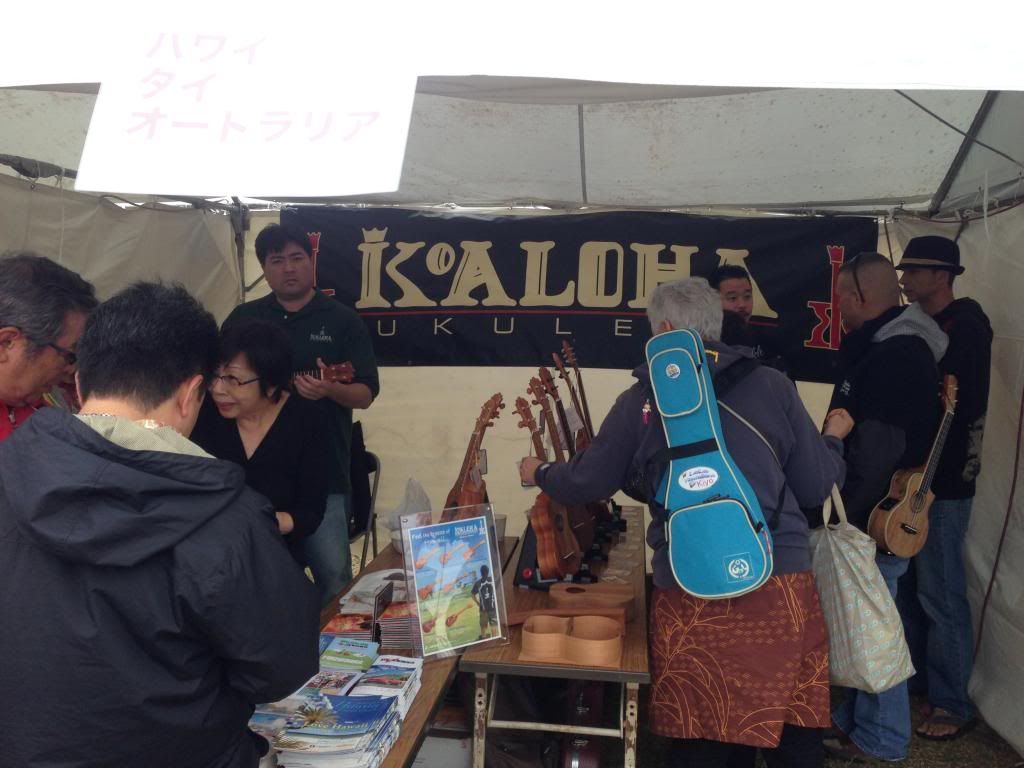 Part of working was manning our own booth, meeting all the nice people there. We hung out a little with Ukulele Picnic founder, David Smith as well. His original event in Japan is enormous! We got to promote Hawaiian Air, Cairns Ukulele Festival and Korea's Ukulele FaFe while we were there too. Building bridges with ukulele.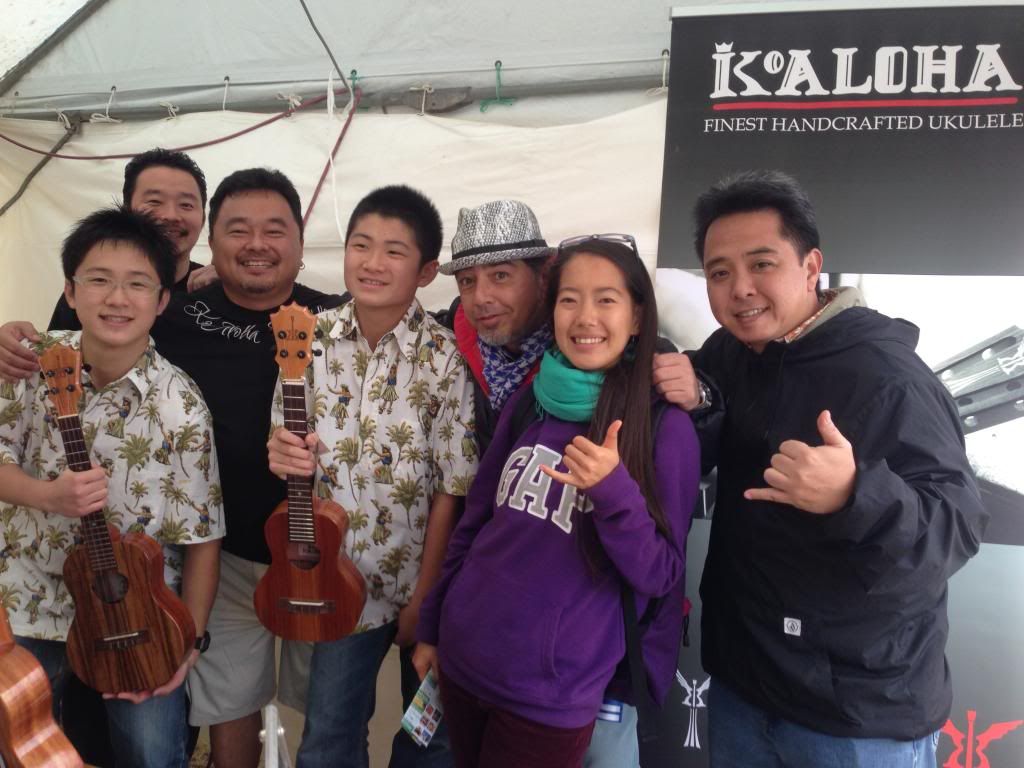 Was that an angel? Close. I got to hear Nayuta Hirano perform for the first time and my heart was immediately captured by her sweet performance. To my delight, I found out that she didn't have an official sponsor. (We're working on that now,....DIBS!) Dynamic brother duo of Kazuki and Naoto were also there and wowed folks with their flawless delivery.
Ohana means family and family means no one gets left behind....wait...whaaaaaat? I think Stitch's belly is positioned a little wrong......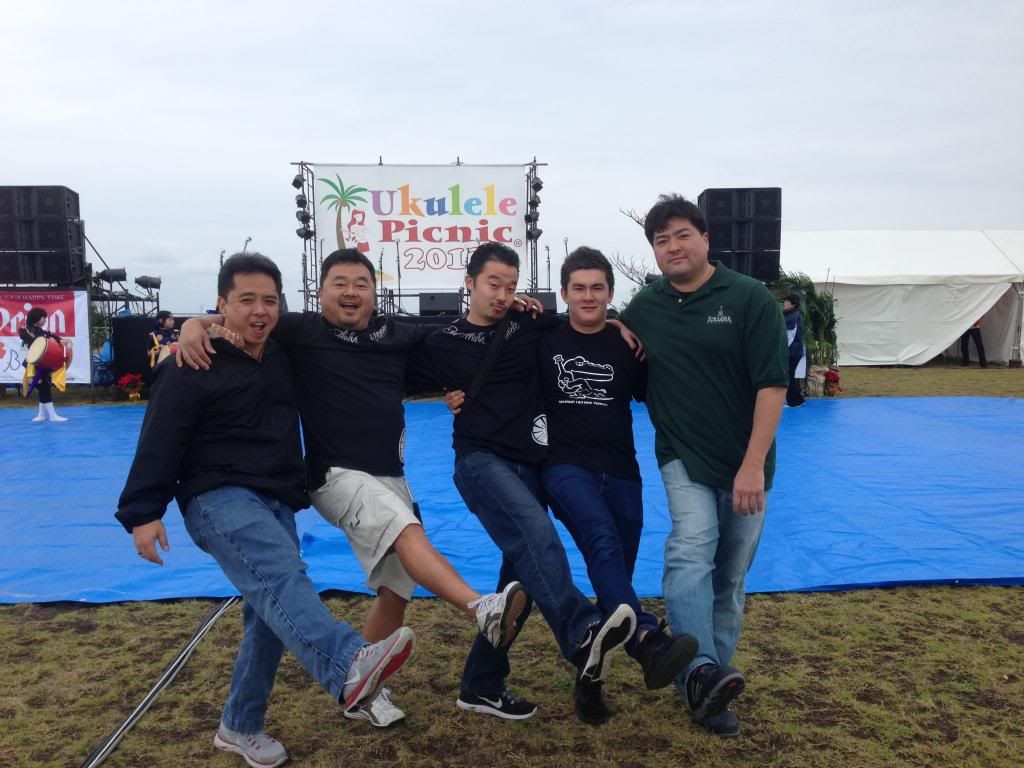 Then it was time for me to get home to Hawaii. I had a great time, but missed my buddy Herb's performance. The event started to rain, but good ole Herb kept his commitment, though the main stage shut down. He played for whoever came to the cover of our booth and from what I understand, he drew quite a crowd. I love and respect Herb and to hear this made me even more proud to call him one of my brothers.
Thanks for reading. Thanks for lifting me up. See what happens when I get inspired? loooong post and tons of pics. More to come in about a week or so. Have a great weekend!